Ask just about anyone to write out the name of this country, and they will almost certainly write "United States of America". They will most likely also refer to it as "The United States of America". There are two problems with this, and both of them are at the very core of the War for Southern Independence.
Take a look at the title of the original Declaration of Independence shown in the image at the top of this post. You will see that the Founding Fathers used a lower case "u" in united – and even made the letters much smaller than "States". This is because we were declaring our independence as 13 individual sovereign states, not as a monolithic new country. We were commonly referred to as "these united States" until Lincoln made his case that we were not a union of sovereign states, but a single sovereign nation ("United"). That was the backbone of Lincoln's argument that secession was illegal, and it was at the very core of the Southern Cause. It wasn't until about the 1860's that "The United States" ("The" instead of "these", and "U" instead of "u") became the accepted way to refer to this country.
Here is another example of the correct usage: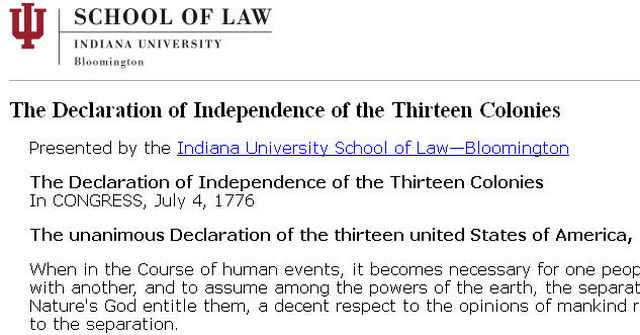 This is from the University of Indiana School of Law (note that even though they are using modern typesetting, they also recognize that the lower case "u" is the proper usage).
Those who claim that our ancestors were "rebels" and criminals and traitors, try to make the case that using a lower case "u" is being disrespectful. In fact, by using the original form, we show respect to the country that the Founding Fathers gave us. Abraham Lincoln's version of the way things are has been wrongly accepted because that is how the history books now show it (remember the words of Winston Churchill – "History is written by the victors"). It is our duty to point to things like this to demonstrate that truth is easily covered up and is waiting for us to uncover it. Seemingly insignificant things like the typographic case of a single letter can help educate people about why The South was right and why honoring the nation of the Founding Fathers is more respectful than fraudulently changing the name to agree with Lincoln's arguments for making war on our ancestors.