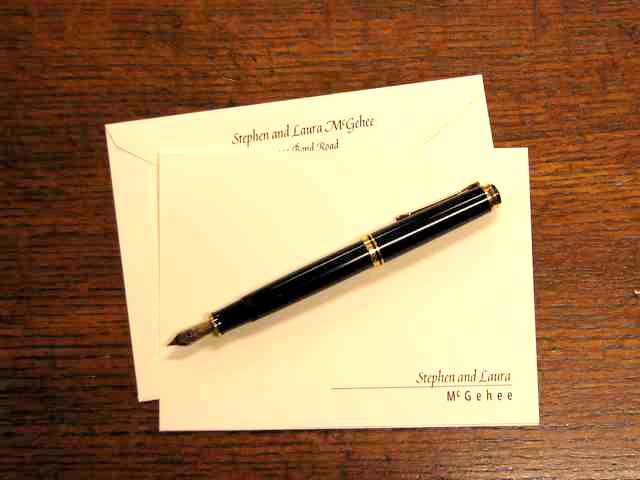 I recently received a "thank you" note in the mail. It was neatly hand-written on fine embossed stationary. It was not for any sort of major effort on my part – it was a thank you note for merely attending a birthday party. Not a gift, just attending.
In times past, this would not have been seen as unusual, and even today it is still fairly standard for some people. What is unusual is that this was from a 16-year old; a young man who races motorcycles, lifts weights, and is on his school wrestling team. Sending hand-written thank you notes is a social skill that is not normally associated with someone in his age group. He did not learn it from his peers. He learned it because his parents taught him. He learned the importance of a social skill that I did not learn until much later in life. I am proud to have a nephew like that, and proud to have a brother and sister-in-law who taught him the importance of making that extra effort to hand-write a "thank you" note.
Shortly after my wife and I were married, we bought a set of stationary that we could use for just about any occasion. High quality stationary is not cheap, but it indicates the importance that is placed on its use. There are places to cut corners, but your personal stationary is not one of them.
My own preference for writing personal notes – and everything else, for that matter – is a fine point fountain pen. There is just something about words written with a fountain pen that give it a character that stands apart from that written with any other writing instrument. Unlike a ballpoint pen, a fountain pen requires no pressure on the paper, making it significantly more comfortable to use than other types of pens. A good quality fountain pen will last for many years if it is given reasonable care. I have my father's fountain pen that I remember seeing him use when I was a child. When I inherited it, I sent it off to be completely refurbished, and it is now in beautiful shape.
My own fountain pen is a Pelikan Souveran 600. Pelikan makes very high quality pens, but doesn't have an exorbitant advertising budget, so they are a very good buy. Not inexpensive, but quite reasonable for something that will last a lifetime, and you are likely to pass down to your children.
The type of pen you use isn't what is important, though; just make sure you use it. In this day of email and texting and instant messaging, the hand-written note is becoming a lost art. It makes a real impression – in part because it is so rarely done. Buy some nice printed stationary and use it every chance you get.