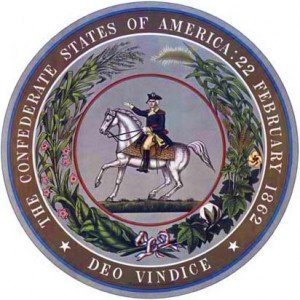 Today, February 22, 2012, marks 150 years since the beginning of the Confederate States of America. On February 22, 1862, Jefferson Finis Davis was inaugurated as President of the Confederate States of America, having been elected to that office on November 6, 1861.
Today, of all days, is when the Confederate flag should be proudly on display. We fly a large 4′ x 6′ Confederate flag (the "standard" flag is 3′ x 5′) year-round at our home. Today is when we will replace the now-faded flag with a new one, and respectfully dispose of the old flag that has served so well. It will be neatly folded, placed on concrete paver, and burned. Cremation or burial are honorable ways of disposing of a flag that is no longer in presentable condition. If burning or burial cannot be done for some reason, another way of disposing of a tattered flag is neatly folding it, wrapping it in something, and then placing it in a trash container. It should never just be tossed in the trash as though it were just a scrap of cloth.
For the past several years, we have hosted a Confederate Independence Day dinner for friends. Unfortunately, we had to call it off for this year due to my wife having surgery on her hand. Next year though, we will resume our annual Confederate Independence Day dinner.