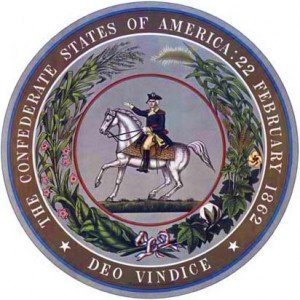 Tuesday February 22, 2011 marks 149 years since the beginning of the Confederate States of America. On February 22, 1862, Jefferson Finis Davis was inaugurated as President of the Confederate States of America, having been elected to that office on November 6, 1861.
For the third year in a row, our family will be celebrating this occasion by having a group of friends and family over for a Confederate Independence Day dinner. A portrait of Robert E. Lee overlooks the dining table where nine of us – mostly friends from the Sons of Confederate Veterans – will enjoy a dinner of pork roast prepared by my wife. We always have our dinner on the Saturday closest to February 22.
It is important to remember and commemorate the events that make up our Southern heritage. Our Confederate Independence Day dinners are something that we look forward to every year. If you haven't already made plans, there is still time to put something together. Make your Southern heritage a part of your daily life and share it with friends and family.