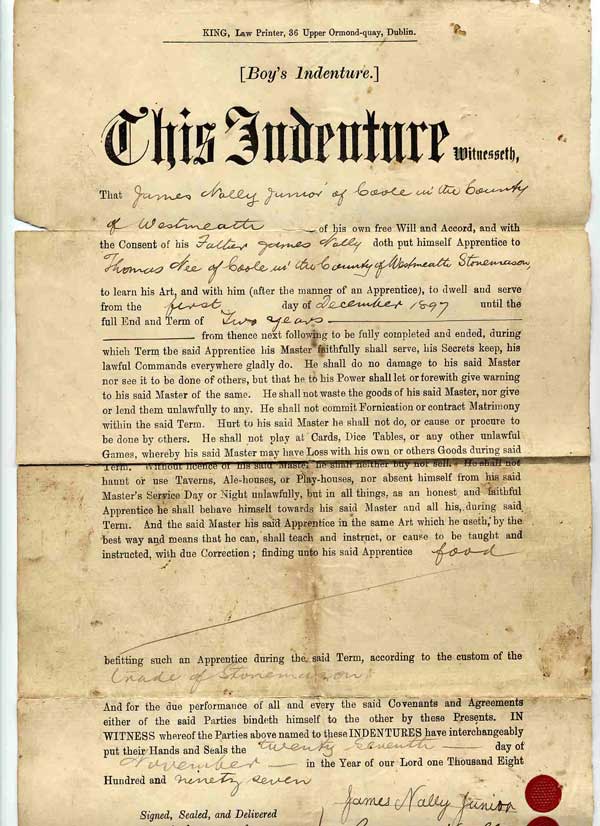 ---
In any discussion of slavery, it would be a good idea to include the institution of indentured service. An indenture is essentially a limited term of slavery which is entered into voluntarily and benefits both parties. This was basically the practice of signing a contract that bound a person to a servant/master relationship for a specified period of time in exchange for something of value. In the case of my grandfather, it was in exchange for teaching him the trade of stone-mason.
Indentured service is, of course, not the same as slavery – not by a long shot.  It has a very clear end date; at least it was supposed to. The main reason that indentured service was outlawed is that unscrupulous masters would contrive reasons to extend the term of indenture by claiming that the servant had unpaid debts that had to be repaid before the terms of the indenture were satisfied.
In many respects, a properly executed contract of indenture is essentially the same as a young man signing up with the military. He is provided with food, housing, medical care, clothing, and other benefits. He is taught a skill that may (or may not) be a valuable skill when his contract ends. In return, he is subject to their rules, must obey all lawful orders without question, and cannot simply walk away from his term of service.
Take a few moments to read over this agreement. Indentured servant agreements are no longer legal, and while they may be viewed as barbaric, I suspect that our society is worse off for that. It was signed between two willing participants in which both benefited. My grandfather would never have been able to afford to go to school to learn a skilled trade like that, so becoming an indentured servant gave him that opportunity.