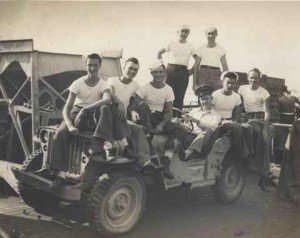 Leadership, at its most basic level, means to serve others. A good leader knows that the objective is to get the job done – not to make sure that you receive the glory. I thought about this as I put together a web site containing the photos of the USS Cumberland Sound (AV-17) where my father served as an officer during World War II.
The Cumberland Sound was commissioned in 1944, the war ended in 1945, and the ship was decommissioned in 1947. What a short life for a ship with a crew of over a thousand. The Cumberland Sound was a sea plane tender. She was one of those unheralded service ships that kept the fleet going. You don't see sea plane tenders in the war movies, and the men who served on them don't have tales of glory to tell. They simply did their job and they did it well.
I hope you'll take a few minutes to take a glimpse into the past to see how men served. More than that, I hope you can come away with a greater appreciation for the importance of the unseen work that must be done. A leader understands that leadership means service to others.