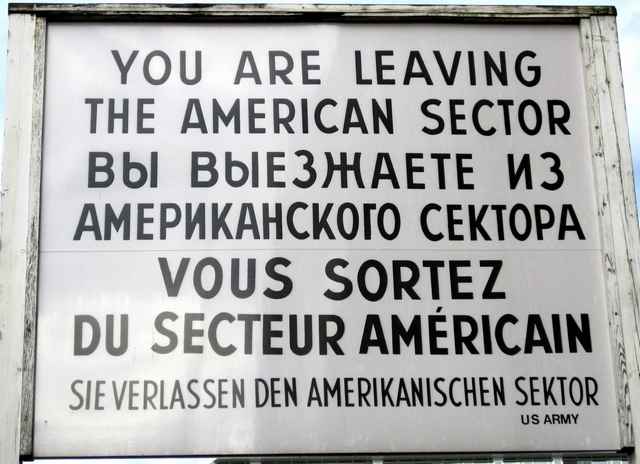 Checkpoint Charlie was "ground zero" of the Cold War. On one side was the Western culture known everywhere as "America". On the other side was the world of razor wire and gun towers, grey concrete buildings, and the complete repression of the human spirit. It was Communism. It was the final destination of the cult of egalitarianism. It was where America is now headed. The sign at Checkpoint Charlie said it all – "Leaving The American Sector".
Three things come to mind as I consider where this country is headed – and where we are being dragged against our will. The first two are signposts along the way. The last is a look back at the culture and civilization America is leaving behind.
• The ban on women in combat has now been removed. Since the Old Testament days, the idea of sending women into combat was simply unthinkable. For thousands of years of human history, we had the good sense to understand the different roles of men and women in society. No civilized society worthy of the name would even consider such an idea. But then, we no longer are a civilized society, are we? The military is no longer a force to defend against foreign enemies and a deterrent to aggression. With this following in the footsteps of embracing open homosexuals in the military, our armed forces are now just another instrument of social change.
• The Boy Scouts of America have announced that they may lift the ban on homosexual Scouts and Scout leaders. The Boy Scout Oath ends with the words, "To keep myself physically strong, mentally awake and morally straight." Those are words that helped guide untold thousands of young boys into manhood – including myself. Those are words that will no longer have any real meaning if Scouting caves in under the pressure of the Cultural Marxists now in charge. One of the few remaining institutions that stood for what is good and right appears about to crumble.
• In contrast to those two items, our church just finished its 15th annual Bible Conference. One of my roles during the conference is to take photos to post on our church web site. As I snapped photos of the people during this four-day event, I was struck by the stark difference between what I saw there and what is now celebrated as the norm of present-day American "culture." There were individuals and families (some spanning three generations), the ladies were all dressed modestly, the men were neatly dressed and well groomed. Everyone was as kind and polite as can be. People pitched in to help in any way they could. It was a slice of Norman Rockwell Americana. It was the way life is supposed to be in a civilized Western society.
Find and cherish the enclaves of our culture. Nurture and care for them. We are truly Leaving the American Sector.