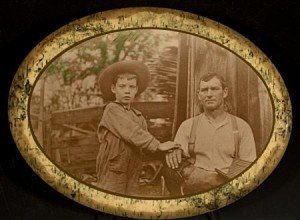 Today's post on the Paratus Familia blog brings into sharp focus our previous entry here regarding the Indentured Servant. My grandfather became an indentured servant in order to learn the trade of stonemason. He was a young teenager and it was time to learn a skill that would serve him as an adult. The Turning Boys into Men post at Paratus Familia talks about her sons and says, "Our government has deemed him too young to have a job. The craftsman taking an apprentice is from a bygone era. And so we pray. We pray that we will have the wisdom to raise Master Hand Grenade and Master Calvin to have a great desire to be a men rather than boys. I pray that I am able to balance being a mother and a woman encouraging a her men to be leaders."
Here is another part of her post that says so much about our society today:
In my perfect world, Master Hand Grenade would be home until noon each day. He would finish his schooling, chores and whatever other home responsibilities he had and then he would spend the rest of the day, until dinner, working on becoming a man. He would dig ditches, build houses, put up hay and chop wood. He would learn to be on time, to work hard, to be tough. He would learn to work when he wanted to be anywhere else and put in a full day when his muscles were aching and tired. He would learn the value of physical labor and a dollar earned. He would learn true self-respect, not the prolific lie of self-esteem. He would skip being a "teenager" and go strait to manhood. He would be a man worthy of marrying your daughter and being the father of your grandchildren. He would be a man of God.

The reality of my perfect world is anything but perfect. Our society doesn't value the same things that I value. Our society worships youth, not the respectability of manhood. We applaud the folly of a child rather than venerating the character of the truly humble, self-controlled man. We are teaching our boys to be boys and wondering why they are not men.
Paratus Familia is on my regular reading list. You would do well to make it part of your reading as well.