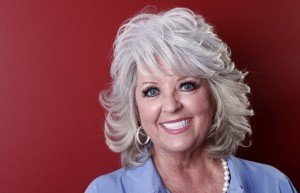 Paula Deen has been seen as an icon of Southern culture – and that makes her a prime target for those who hate the culture of The Old South. While I am disappointed to see yet another public figure groveling for forgiveness that will never come, that's another topic for another day. What was the horrible crime she committed that would lead to being kicked off of The Food Network?
Last month, Food Network chef Paula Deen gave a videotaped deposition as part of a discrimination suit she's facing in which she discussed her desire to have a "very southern style wedding" for her brother modeled after a restaurant where the "whole entire wait staff was middle-aged black men" clad in white jackets and black bow ties, according to a transcript of the deposition filed in federal court in Georgia. Deen also admitted to having used the N word and discussed the ways the word could be "not said in a mean way." (source)
Her "incriminating" statement? "Yes, of course," said Deen, when asked by a lawyer if she had ever used the "N word."(source). So, we have someone with the honesty to affirm that she had said something that she regrets saying. Are we to believe that all those media figures who are expressing shock and outrage have never done anything like that in their entire life? Remember, the question was if she had ever used that word.
While she is being destroyed for using the word "nigger" (referring to "the N-word" is beyond childish – as though it would cast some evil spell), this is hypocritical exploitation in its purest form. The media has seized upon the use of a "forbidden word", used in a private meeting, to attack a Southern icon. Her real crime? Having the audacity to discuss a "very Southern style wedding" based on imagery from one of the most widely-known romance novels of all time – Gone With The Wind. She wanted to recreate another time for her brother's wedding and, horror of horrors, she wanted to use the race of those who would be hired to make it more historically accurate. Those who would be serving the food would essentially be actors in a play, yet because such ideas apparently provoke a feeling of being horribly offended by the oh-so-sensitive class, she is being publicly scorned. Try doing a Google search for "plantation wedding" – it's a very popular venue.
Am I saying that using racial slurs to offend someone is acceptable? No, of course not. This blog is about the Southern gentleman, and a Southern gentleman shows respect to all – at least until such time that they demonstrate that they are completely unworthy of such respect. Even at that point though, the Southern gentleman has a vocabulary large enough to find and use a better choice of words.