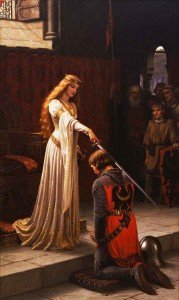 "Where men are forbidden to honour a king, they honor millionaires, athletes, or film stars instead; even famous prostitutes or gangsters. For spiritual nature, like bodily nature, will be served; deny it food and it will gobble poison."
C. S. Lewis
---
C. S. Lewis understood human nature perhaps as well as any mortal man ever has as the above quote demonstrates. Who do we honor? I ask this of both those of us who aspire to higher standards as well as to what now passes for popular culture. I ask this of those who vote for the leadership of our nation. Most of all, I ask this of myself.
The reasons behind the election of the man who currently resides in the White House can be found in this same question. Was he elected because he clearly articulated a vision of a morally upright, honorable America where all men would have the opportunity to excel and then reap the rewards of their success? or was he elected because he seemed "cool" and "hip" and represented "the latest 'in' thing"? To paraphrase someone he is fond of quoting, was he elected based on the content of his character – or on the color of his skin? I have no doubt that it was for the latter.
I have made no secret of my admiration for constitutional monarchy as a form of government, and Mr. Lewis has presented the chief argument in favor of that – the moral and spiritual reason. Many people will, of course, feed their "spiritual nature" with poison rather than food simply because the nature of man tends toward the wicked rather than the good. Those type of people will always be with us. The benefits of having a leader who represents honor and righteousness and justice and freedom go not to what I refer to as "Walmart people," but to those who yearn for a leader who brings out the best in men rather than pandering to our baser instincts.